I have recently rediscovered Erwin Wurm and his work has been making me smile all week. I particularly like his one minute sculptures where himself, models or the audience interact with everyday objects. I have never been to a show of his but would love to read the instructions that he writes or illustrates and have a go at turning myself into a sculpture. It will be no surprise to hear that I think the photograph of a person using a chair to create a sculpture is incredible. I find them amusing but also enjoy the immediacy of how they are made.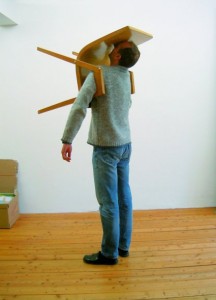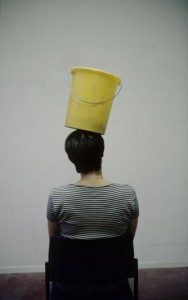 In my first year at University someone suggested I look at Erwin Wurm's work. At the time I was making self portraits by lying down on a piece of A1 paper and asking someone to draw round me. I would then fill in with block colour the shape left behind to create an odd silhouette. The idea was to make these into 3D versions but I could never quite get to the bottom of how.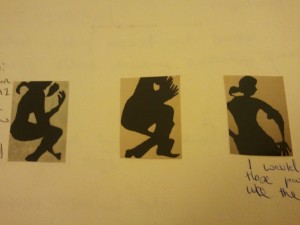 During the same year I was spending a lot of time getting into small spaces (as you do!). My most proud achievement was fitting into the top compartment of a discarded fridge (might well have been the start of my love affair with discarded objects!).