I was having a conversation this week about the different types of time and how it becomes increasingly more difficult to make time for everything. I have been musing over the different types I think there are all week and categorised them as follows:
There is obligatory fun celebratory time, Weddings, Birthdays, leaving parties. There is fun time 'just because' which often happens without too much planning, like a trip to the pub on a Friday night. There are breaks away and adventures, camping, festivals, holidays. There are catch ups and chats, this usually involves drink or food as the centre point, pub, cafe or cups of tea on the sofa. There is inbetween time, usually on the way somewhere, to the shop, to work, on the train. Necessary time, work, life admin and sleeping. Relaxation time, watching TV, cooking, reading, sitting, going for a walk. There is also development time (couldn't think of a better word for it!), learning, thinking, making art, trying something new. This list is not exhaustive and obviously everyone is different, but for me at this point in time these are the main ways I spend/organise my time. On Thursday evening I spent my favourite type of time, the fun type!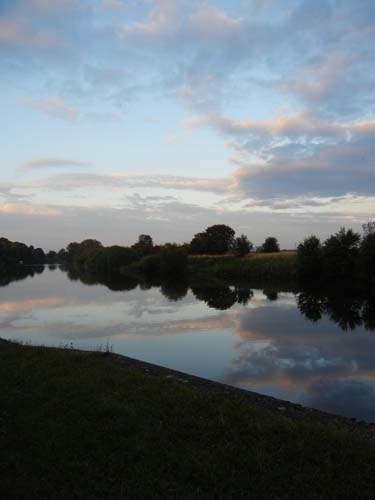 Me, Amy, Haydn and Al drove to a pub near the river Trent which was super lovely as one minute I was sat on the sofa watching one of the many terrible programmes I watch and the next thing I knew I was going for a drive. It was so good to get out into the countryside; there were beautiful reflections in the water and a very nice looking bird.